It's a cold Friday afternoon and as soon as the kids catch the warm sweet aroma of freshly baked cookies, they come bounding through the house. If we're lucky, a freshly baked batch of 12 might get us through the weekend. In this house, the best time to tuck in to fresh cookies is when they are still warm and gooey. Follow this recipe and your cookies will have a delightful crunchy edge and soft center even a day or two after they've been baked, if they last that long of course.
Double Chocolate Chip Cookies.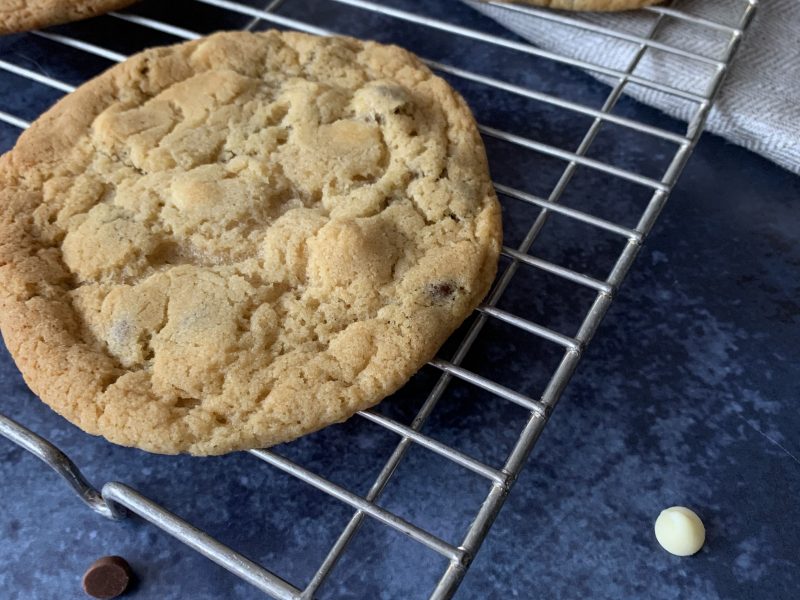 Ingredients
125g Butter (room temperature)
100g Light Brown Sugar
125g Caster Sugar
1 egg
1 tsp Vanilla Extract
225g Self Rising Flour
Pinch of Salt
100g White Chocolate Chips
100g Milk Chocolate Chips
Instructions
Preheat the oven to gas mark 4 (180c).
Cream together the butter and sugar until well mixed.
Add the vanilla extract and the egg and mix.
Sift in the flour, add the salt and chocolate chips and combine well.
Roll into 12 evenly sized balls.
Place onto 2 lined baking sheets (6 cookies per baking sheet).
Bake for 12-14 minutes until just golden around the edges (these will come out soft to the touch but will firm up when cooled).
Leave to cool, serve and enjoy!
The wonderful thing about this recipe is how diverse it can be. The base ingredients lend themselves to almost any combination of filling that you like. If you don't like white chocolate, double up on the milk chocolate. Don't like either white of milk chocolate? Swap them out for dark chocolate. You don't like chocolate at all (?! not judging), no problem, you could swap dried fruit in instead! You could even add some food colouring if you're baking around a theme. Green or orange cookies for Halloween anyone?
Why not give these a try and let us know how you got on? We would love to hear what crazy flavour combo's you come up with!
Did you like this recipe? You can find more easy to follow recipes on our Pinterest account found here.
Please follow and like us: